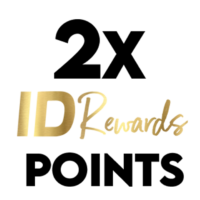 Celebrate with us this National Day online and get double IDRewards points! Every single riyal you spend, you will be receiving 2 equal points in your account. Valid till end of November.
Register now in our ID Rewards Points and get 100 point in your ID account.
Evey single rial you spend , you are receiving 1 equal point in your account.
Every 100 points you get 1 rial in your account to spend on your next purchase.
IDRewards Points Programme is a loyalty programme operated by IDdesign Oman.
As a member, you will earn IDRewards points when you purchase furniture and accessories on www.iddesignoman.com
Member needs to register the account with a valid mobile number and email id.
For every 1 Omani Riyal spent on www.iddesignoman.com, customer earns 1 IDReward point. Every 100 points are equal to 1 Omani Riyal. Member can use the accumulated IDRewards points on their next purchase.
Earn ID Reward points by only shopping online at iddesignoman.com
IDRewards points can be redeemed for purchase of furniture and accessories on www.iddesignoman.com
For ex: If a member has 2000 IDRewards points, they can redeem a product worth RO 20 for free or get a discount of RO 20 on the invoice.
IDRewards points will be credited to member's account after 24hrs of the purchase and payment of the order.
IDRewards points can never be redeemed for cash. Member can only purchase furniture and accessories with the points online.
IDRewards points are valid for 1 year from the day of issue. Member needs to utilize the balance within 1 year of issue else the points will lapse and they cannot be redeemed on a future date.
Benefits and offers made to you through the Programme may change or be withdrawn without prior intimation. IDdesign Oman will not be responsible for any liability arising from such situations.
As a member of the Programme, you will be issued an IDRewards membership at the time of enrollment against the mobile number or email id which you provide for enrollment. You can use your registered mobile number or email id as an 'alias' for your membership.
IDdesign Oman reserves the right to withdraw or cancel any or all IDRewards memberships issued; refuse to award IDRewards points; withdraw IDRewards points; refuse the right to redeem IDRewards points collected for any breach of these conditions or failure to pay for the purchases without prior notice.
By using your IDRewards points, you automatically provide acceptance of the Programme along with its rules, terms and conditions, which are subject to amendment from time to time.